Performing Seal of Approval
Redondo Beach Performing Arts Center goes mLAN to the max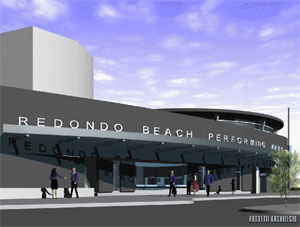 The 1425 seat converted high school auditorium "Redondo Beach Performing Arts Center" (RBPAC) is boldly going where no Performance Audio space has gone before, thanks to head engineer Kevin Bleuer's urge to live and work on the bleeding edge of technology, Veneklasen Associates Senior Consultant Jack Shimizu's forward looking design, and the installation skills of Christian Hugener, Eric Motley and their crew from Thomas Gregor Associates.
Multiple organisations
With a booking calender as varied as the Civic Light Opera of South Bay Cities to modern and ethnic dance, ballet, magicians, jazz, rock and folk concerts, standup, ESPN events like the US National Aerobic Championship, plus events and satellite uplinks for Toyota, Nissan, Xerox, TRW and others, RBPAC sent consultant Jack Shimizu on an 'overdesign' mission, according to Head Engineer Kevin Bleuer.
All systems go
"We have three digital systems," says Kevin." The Otari ND-20 fiber optic snake which connects the stage to the mix position, the Yamaha PM1D console, and a BSS SoundWeb that does the distribution and processing for the loudspeakers." Waiting for delivery are the AGDIE cards from Yamaha which will enable the PM1D to use the multichannel digital signal from the Otari ND-20 as input. With that, and an AES/EBU digital link from the PM1D to the SoundWeb, Redondo Beach could employ an all-digital signal path from the mic pre's to the power amplifiers.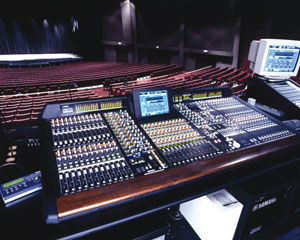 The Otari digital snake uses the mLAN protocol developed by Yamaha Corporation as a nonproprietary extension of Apple's IEEE1394 (aka FireWire or iLink) digital protocol. mLAN uses FireWire's Physical and Link layers, adding transaction layer enhancements like high-end clock management and automatic system reconnection. With 125 feet from the stage to the mix position and 500 feet of fiber running throughout the building, the RBPAC is one of the largest mLAN installations in the world at the moment. Jack Shimizu chose mLAN for its low latency, among other attributes. The Otari system also distributes word clock throughout the facility, enabling the dual PM1D DSP engines to synchronize with each other and run in mirror mode.
A show could do what the Civic Light Opera of South Bay Cities does, using Yamaha software to pre-program an entire production's worth of cues off line, bring them in on a PMCIA card, and fine tune those presets on the PM1D during rehearsals.
Networking
The RBPAC system is impressive testimony to the flexibility of networked digital audio for live performance, but the people responsible found out quickly why it's known as the "bleeding edge." The Otari mLAN fiber optic network, for instance, challenged the capabilities of both hardware and technicians. "There are input boxes backstage, stage right and stage left," reports Christian Hugener, "We're waiting for new firmware and clock chips, which will give us over 100 channels. At the moment we can run 88 channels at once. The original network configuration would not have handled the bandwidth that was necessary, so we worked with Otari to reconfigure the distribution of the devices and the fiber optic." Another downside to being an early adopter of new technology is cost: because the fiber to metal transducers for 1394 have just come into production over the last six months they're still expensive compared to other network alternatives.
Light at the end of the tunnel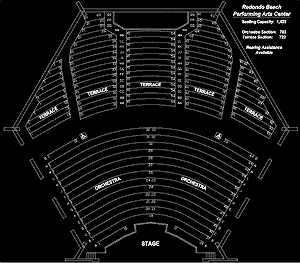 Keeping on top of technology has kept the house staff and outside experts busy: since Redondo Beach took over the building from neighboring Manhattan Beach, the rigging has been renovated, the lighting has been renovated (an ETC Obsession II console was installed just four years ago) and the sound's been renovated twice. But with a system this sophisticated, it should be a while before Redondo Beach needs to hire consultants and contractors again. One reason is the fiber optic backbone. "The only way to truly future proof an installation, in my opinion, is to put in a lot of empty conduit," says Christian Hugener. "Nobody seems to want to spend the money for that, but they'll sure do it later on. Beyond that, if you have fiber, you're probably ready for at least the next step, whatever that may be."
In fact, Hugener sees live audio increasingly moving into the digital domain. "Everything we do now is large scale distributed audio networks: computers talking to computers, basically. So our motto is 'It's all computerized: what could go wrong?'" Hugener sees real cost benefits to digital technology, not just the lure of the latest and greatest. "We're replacing a project that's less than 10 years old where we had to build our own computer controlled switching matrix, because anything you bought was $25k and up," he recalls. "Nowadays you can get one for $3 or $4 thousand."
RBPAC's new sound system cost a lot more than that, but it promises to deliver excellent value. Not only will the advanced digital technology be "state of the art" for many years to come, but the added flexibility and performance it delivers should make this facility a highly desirable rental location for almost any event involving a live audience.
Christian Doering is Marketing Partner with Dynamic Market Systems, a marketing consultancy focused on audiovisual technologies.