World's Largest mLAN Network
LOS ANGELES-Pro Player Stadium, home to the NFL's Miami Dolphins, Major League Baseball's Florida Marlins, and numerous Super Bowls, revolutionized the economics of professional sports stadiums when Dolphins owner Joe Robbie arranged the private financing and construction of the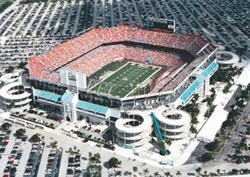 $115 million facility in the late 1980's.
Maintaining its status as one of professional sports' most advanced and prestigious venues, Pro Player Stadium recently upgraded its audio facilities with an advanced distributed speaker system and computerized digital audio control system which includes an mLAN network connecting three Yamaha DME32 Digital Mixing Engines.
"The main priority was finding a reliable DSP for the system," noted Scott Pearson of All Pro Sound of Pensacola, who supervised the installation. "We've been using the Yamaha DME32 at the Orange Bowl in Miami for over a year with no problems, so we were confident of the unit's reliability, modular architecture, and its programming accessibility without a computer." All Pro Sound worked in conjunction with Dallas based consultant Wrightson, Johnson, Haddon & Williams, Inc. (WJHW) and stadium architects HOK Sport.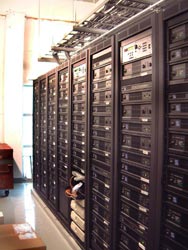 "Sound quality was an equally important factor," Pearson continues. "Many DME32 components are also used in Yamaha's PM1D digital mixing console, and any technology that can both withstand the rigors of touring and satisfy touring professionals' audio quality issues would certainly be appreciated in any pro sports facility. Finally, the cost savings that the DME32 provided allowed us to provide the owner with additional equipment while staying within the project budget."
The new distributed sound system consists of 350 speakers, driven by approximately 350,000 watts of amplification. From the sound control room, the system operator can change the configuration at the touch of a button to match the event requirements.
The Pro Player Stadium upgrade is also the world's largest mLAN network, using fiber optic cable to transmit digital audio between three widely separated equipment locations. "The mLAN system allowed us to use an integrated solution to transmit digital audio," noted Pearson. "Once the DME32 was chosen as the DSP for the project, the choice of a network for interconnecting and managing our digital audio signals was an easy decision. The mLAN system affords us greater flexibility in our DSP programming, as it allows us to better share DSP resources throughout our network."